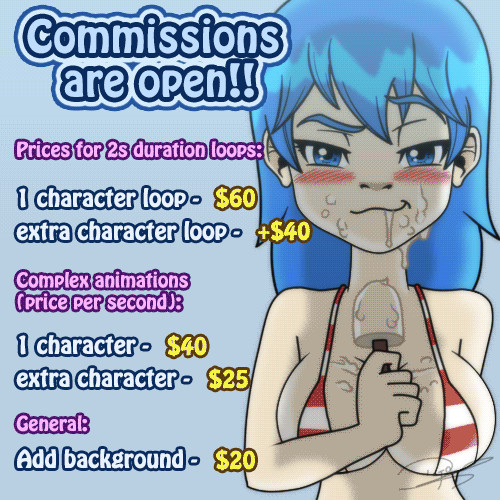 Click on the image for the animated gif version of this image.
---
COMMISSIONS ARE OPEN.
-------------------------------------------------
Limited slots, keep this post in mind to know when it's open or closed.
-------------------------------------------------
RULES:
For a non 2s loop animation, send me a message with the idea and duration, so I'll send you the price;
l will keep your anonymity if you want, so feel free to present your idea and we will see what I can do;
I'll need some visual references for the character(s). Descriptions of personality can
be very helpful too;
I will have some freedom to make adaptations on visual (not much different from the original), but
don't worry, I'll send an initial sketch before start to animate, be sure everything is fine;
After the initial sketch approval (when I start the animation process) only minor corrections will be accepted (colour and little details), excessive corrections will be charged;
You are welcome to post the commission elsewhere, as long as you credit me as author;
Prices are USD.
Payments via PayPal;
I don't make gore nor illegal content;
Copyright characters only if it's not for commercial use;
I'm free to deny any request.